How to Advocate for Your Agency and Federal Relief Funding
The coronavirus (COVID-19) pandemic made obvious what professionals have known for a long time: parks and recreation services are not just public amenities, but essential services that communities need. As the new Congress and the Biden administration start to address the critical issues facing our country, park and recreation professionals need effective advocacy practices to ensure that community services and needs are a part of the nation's recovery. This webinar will introduce professionals to NRPA's public policy and advocacy team, provide an outline of advocacy priorities, and identify how park and recreation professionals can take advantage of federal relief funding through the American Rescue Plan.


NRPA Education online learning content is accessible for 180 days from the date of your registration. The learning content is available for registration for one year from the date of origination.
Elvis Cordova (he/him)
Vice President of Public Policy and Advocacy
National Recreation and Park Association
Elvis Cordova is the Vice President of Policy and Advocacy for the National Recreation and Park Association (NRPA), which is the nation's leading non-profit organization dedicated to the advancement of public parks, recreation and conservation. Mr. Cordova leads NRPA's federal policymaking initiatives by providing strategic planning for enhancing community-based and capacity building programs, and stakeholder engagement to advance parks, recreation, and conservation efforts that enhance the quality of life for all people. Mr. Cordova is a seasoned executive with over a decade of experience developing and implementing solutions for some of the most significant and high-profile challenges facing the U.S. public sector. He has a unique combination of political, legal, economic, and international expertise. He is a proven strategist and manager, adept at building coalitions and communicating effectively to diverse stakeholders. He has built an intimate knowledge of the workings of the U.S. government and has developed strong relationships with a range of policymakers in key markets around the world.
In 2012, Mr. Cordova was appointed by President Barack Obama to serve as a Chief of Staff at the U.S. Department of Agriculture (USDA). From 2012 to 2017, Mr. Cordova served in various leadership roles at USDA, including Deputy Under Secretary and Acting Under Secretary. He oversaw food labeling programs (including organic and biotechnology), international trade regulations, research & educational grant programs, nutrition programs, commodity procurement, plant & animal health regulations, process verification programs, conservation programs, and the expansion of local and regional food systems. He served on the White Task Force for Puerto Rico, focusing on building public-private partnerships to aid in the economic recovery efforts for the island. Mr. Cordova entered the federal government a Presidential Management Fellow at the Farm Credit Administration and at the U.S. Department of Energy where his work encompassed alternative energy, economic development, financial services, and congressional affairs. Outside of the federal government, he served as a consultant for the United Nations where he focused on trade development strategies for emerging markets in Southeast Asia. He also served as Vice President of Public Relations at Tzolkin Media Inc., and Director for Latin American programs at the Self Reliance Foundation. Mr. Cordova began his career as a financial analyst at the Harvard Management Company.


He holds a Master's degree in Public Administration from the Wagner Graduate School of Public Service at New York University and a Bachelor's degree in Criminal Justice from Northeastern University. He is a recipient of the Woodrow Wilson Graduate Fellowship and holds various professional certificates from Georgetown University, Harvard University, University of California at Berkeley, Universidad de Sevilla (Spain), Universidad de Buenos Aires (Argentina), École Nationale des Travaux Publics de l'État (France), and Pontificia Universidade Catolica (Brazil).

In his personal time, Mr. Cordova works with various national leadership organizations to create and expand opportunities for diverse communities in the Washington, D.C. area. He has previously served on the Executive Board of the Washington D.C. Chapter of the National Society of Hispanic MBAs (now known as Prospanica). He has served as a senior advisor for the Aspen Institute's International Career Advancement Program. He is a graduate of Leadership Alexandria, which is an executive-level training program in the national capital area, as well as a graduate of the Political Leaders Program from the Sorensen Institute at the University of Virginia. He is an alumnus of Project Interchange, which is an international leadership program of the American Jewish Committee and an alumnus of the Hispanic Leaders Program, a professional development program organized by the Foreign Ministry of Spain. Mr. Cordova presently lives with his family in Alexandria, VA and has previously lived in Latin America and Europe. His language capabilities include Spanish, Portuguese, and French.
$i++ ?>
Kyle Simpson
Senior Government Affairs Manager
National Recreation and Park Association (NRPA)
Kyle Simpson joined NRPA in December 2017 and is heading up our public policy work on conservation, including infrastructure, Land and Water Conservation Fund, and resiliency. Kyle comes to NRPA after nearly 10 years on Capitol Hill, most recently having worked for Senator Claire McCaskill of Missouri.
$i++ ?>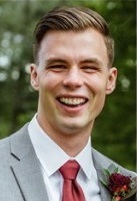 Dan McCarthy (he/him)
Advocacy Manager
National Recreation and Park Association
Dan McCarthy joined NRPA in February 2021 to lead grassroots advocacy campaigns and support members in their advocacy. Dan comes most recently from the anti-hunger community in Boston, where he organized coalitions to alleviate childhood hunger. He is a firm believer that our communities are stronger — and our government more effective — when people are interested, informed, and involved in the democratic process.
$i++ ?>
Components visible upon registration.